USTRAA COVID VACCINATION OFFER:
Hello GYUS Hope you all are enjoying top SHOPPING LOOTS by us . Now a days many brands are providing COVID VACCINATION OFFERS which include free offers and gifts if you have done your first or both dose of covid vaccine. This time this is An initiative by The USTRAA to encourage customers to become more health-conscious and help in stopping the spread of the virus.

Ustraa has recently announced USTRAA VACCINATION OFFER that urges buyers to get their COVID-19 vaccines. The shoppers who have been vaccinated can upload their vaccination certificate on the website and can earn store credits worth Rs. 500! . Ustraa will give store credits to encourage people to be safe and get vaccinated. So shoppers who get their vaccine shots can rejoice, as they will soon be safe from the COVID-19 virus. And once you get your vaccine shot and earn credits of ₹500, you can shop to your heart's content.
Get Vaccinated and Shop for Men's Grooming Products on Ustraa If you get your vaccine, you will have protection against the deadly virus and also get to shop for trending grooming products from Ustraa! By staying safe and taking part in the vaccination drive, you are guaranteed a premium range of Skincare and Haircare products at a steal. Ustraa brings an exclusive deal to vaccinated shoppers for our extensive collection of luxury Men's grooming products. Urge your friends and loved ones to stay safe and get their vaccine shots by giving them gift packs with premium quality grooming products!


MUST READ:- TOP 5 CONVECTION MICROWAVE OVEN UNDER 15000
ABOUT USTRAA

Ustraa is the men's grooming brand of Happily Unmarried. They create products, grooming content and everything else that can help Bros look and smell good. Our products adhere to the highest quality standards, and are made without using Sulphate, Paraben or harmful chemicals. And most importantly, they are not tested on animals, only on rascals!

STEPS TO DO USTRAA COVID VACCINATION OFFER AND GET 500 USTRAA STORE CREDIT
1. First of All USTRAA VACCINATION OFFER is only for them who have done with their First Dose of COVID – 19 Vaccine. If You are not yet vaccinated then CLICK HERE to know all the tips and tricks to get Trips And tricks To Get vaccination slot
2. Open Given Ustraa Covid Vaccine Store Credit Offer page from Here

3. Enter your your beneficiary ID for verification and Upload your Covid 19 Vaccination Certificate which you have dowloaded from the cowin or you can just provide any 12 digit number and pdf

4. After that Submit your Entry and you are done now!
5. After verification of your details, you will get ₹500 Ustraa Store Credits in your Account. which are 100% usable

6. You can use Ustraa Score Credits on the purchase above ₹999 using Ustraa Online Store

There Are Lots Of Best Products Available Right Now For Men's Grooming Range. You Should Check Out Beard Oils , Shampoos , grooming kits etc.


SOME BEST PRODUCTS SUGGESTIONS TO BUY WITH USTRAA VACCIANTION OFFER


1) USTRAA Hair Growth & Protection Pack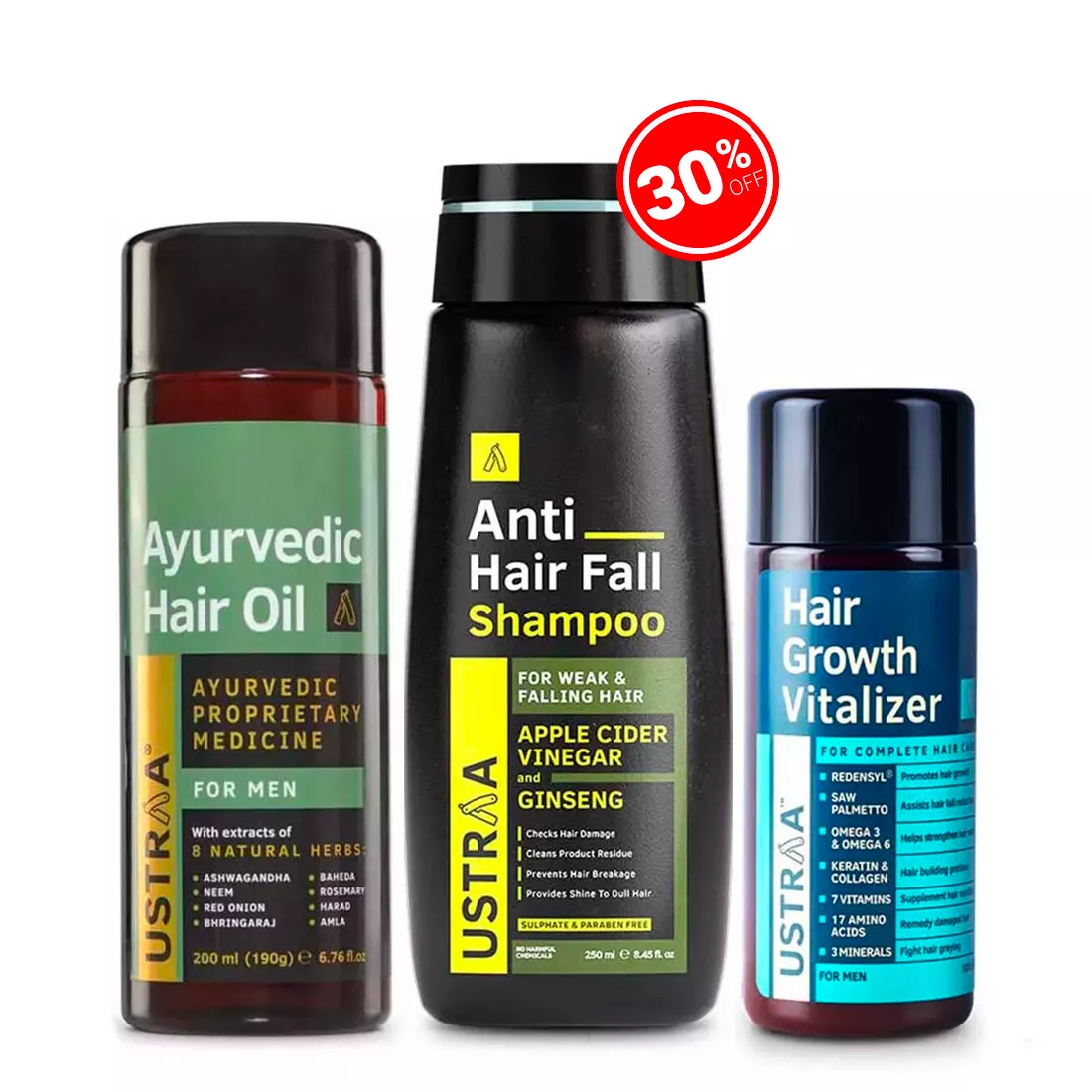 THIS PACK BASICALLY CONATAINS THE 3 PRODUCTS NAMELY Hair Growth Vitalize , Anti Hair Fall Shampoo Ayurvedic Hair Oil
The Regular Price of this is ₹1152 but you can get it at @652 By using Ustraa vaccination offer free credits
2) USTRAA BEARD OIL

Ustraa beard oil is the inidias Largest selling beard oil . Test conducted in an independent lab shows that there is upto 40% more hair growing cells with the USTRAA Beard Growth Oil.
Features of Beard Growth Oil
Boosts hair growth.
Repairs Damaged Hair.
Activates hair's stem cells.
Strengthens and nourishes hair.
Soothes scalp and boosts hair cell to grow new hair.
Visible Results in 90 Days.
3)USTRAA Monthly Essential Kit 2
Monthly Essential Kit 2 basiacally contains
1) Hair Growth Vitalize which boosts growth & reduces Hair Loss. 2) Anti Dandruff Shampoo Which Unlike other this does not leave your hair dry after wash. 3) Face Wash- Oily Skin this face wash with Basil and Lime gives you a fresh and oil-free appearance.
4) Sea Minerals– this Soap assists your skin in retaining moisture and keep it healthy.
REGULAR PRICE OF USTRAA Monthly Essential KIT IS ₹976 BUT By USINNG USTRAA VACCINATION OFFER CREDITS YOU CAN GET IT AT ₹476 (cart value should be 999)
4)USTRAA Monthly Essential Kit 1
USTRAA MONTHLY ESSENTIAL 1 COMBO INCLUDES Sea Minerals soap , Hair Cream (Gives Complete Nourishment for your hair) , Anti Hairfall Shampoo , Face Wash – Neem & Charcoal (Helps Prevent Acne & Breakouts) NORMAL PRICE OF THE USTRAA ESSENTIAL 1 COMBO IS ₹ 701 BUT WITH THE USTRAA VACCINATION OFFER YOU CAN GET IT AT 500 DISCOUNT ON MAKING CART VALUE OF ₹999
5) USTRAA Ayurvedic Hair Oil & Hair Growth Vitalizer
Ustraa Ayurvedic Hair Oil is based on the age-old findings from sages like Sushruta, Charaka, Bhrigu, and many more, and is recognized by the Ministry of AYUSH as a proprietary ayurvedic medicine for men's If you like to oil your hair regularly, this is perfect for you. Non-sticky formulation made with all-natural herb extracts without harmful chemicals will make sure your hair stays healthy. Hair Growth Vitalizer Boosts hair growth, reduces hair fall, delays greying, thickens hair, checks split ends and provides all the nutrition that you need for healthy hair.
SOME MORE TOP USTRAA PRODUCTS
J